Woodturning with a lathe is a woodworking process that's as unique as it is satisfying. When your wood lathe spins a workpiece at high speed, there's just something so gratifying and mesmerizing about steadily and evenly shaping wood. So, what can you make with a wood lathe? A wide variety of beautiful—and often practical—pieces. And you don't need to be an expert to get started.
Whether you're a beginner or a seasoned pro, using a wood lathe is a skill you can keep honing over time, and like many other things, the hardest part is coming up with good project ideas. Read on for a rundown of 15 fun wood lathe projects that are sure to turn you into a woodturning enthusiast.
Bowls
Bowl turning may be the first thing you think of when you hear "woodturning," and with good reason. They're an ideal beginner's project. Try smaller wooden bowls to start to ensure it fits your spindle's size.
To help you get off on the right foot, the best wood for this project is a versatile wood that's easy to work with, such as cherry, pine, or maple. Once you've successfully turned a few small bowls, you can progress to bigger, more complex pieces.
Bracelets
Ring shapes are another staple of woodturning. A bracelet or bangle is another good beginner project. Plus, once you get the hang of it, bracelets make great gifts for family and friends. Just make sure you do enough sanding on this project. You wouldn't want someone getting a splinter from one of these, would you?
Just like with the bowls, as you refine your skills, you can tackle more difficult bracelet styles with fancier features and different woods.
Spoons
Like we said before, you can make some seriously practical stuff with a wood lathe. Look no further than a wooden spoon. Ideal for stirring, scooping, sipping, smacking, and more, any spoon you turn will be put to good use.
Try out the classic turned wood kitchen spoon to start. Then get smaller and more intricate as you get more confident.
Rolling Pin
Next up in practical items for the kitchen is the beloved baker's tool, the rolling pin. Since its functionality depends on its basic cylinder shape—pretty much the wood lathe's reason for existing—a rolling pin is a straightforward project.
Fun, easy and useful, the rolling pin is hard to beat as a beginner project.
Vase
Need a centerpiece for the dining room table? How about something to brighten up the mantle? It might be time to expand your woodturning horizons by creating a vase.
This doesn't need to be an expensive project either. Part of the allure of this can be the rustic nature of it, so you can probably find some reclaimed pieces of wood and make a few from that.
Wood vases provide a natural, beautiful accent that complements nearly any home decor style. You've got many options for size, shape, design, and level of intricacy. Pick one you like—or come up with your own concept—and give it a try!
Drawer Pulls
You can buy many types of wood drawer handles at a relatively low cost. But if you're doing DIY furniture right, you'll find great satisfaction—and even more design options—if you make these finishing touches yourself.
Use your wood lathe on small blanks to create the classic mushroom cap design or any kind of smooth, beautiful shape for your drawer pulls. You'll make good use of your roughing gouge and spindle gouge to form the contours.
Candle Holder
A candle holder is a good test case for a hobbyist who's curious about turning woodturning into a side hustle. The typically elongated shape, coupled with many customization options, makes this project a fine way to level up your skills and create something unique that sells.
Again, it's good to start with a simple design. Then try the more intricate cuts to flex your artistic muscles and see what might attract buyers.
Magic Wand
From The Hobbit to Dungeons & Dragons to Harry Potter, wizards are a permanent fixture of our pop culture. So it's no surprise that making magic wands is among the more popular woodturning projects.
Turn a wand for a costume, a toy, a keepsake, or one of the best gift ideas imaginable for a fan of the wonderful world of wizardry. Keep pushing the boundaries of your skills with more detailed wand designs. You can create magic for kids and adults alike.
Chair or Table Legs
Aside from baseball bats, furniture legs are probably the best-known products involving a wood lathe. If you're interested in building your own furniture, turning legs is going to be a key step.
From classic to craftsman to modern, chair or table legs can range from straightforward to quite ornate. After figuring out what length you need, the complexity of the design is your call. But whatever level of intricacy you take on, you're sure to end up with a piece you can admire and use every day.
Chess Pieces
As profiled in our article on advanced woodworking projects, a complete chess set is one of the coolest, most giftable wood projects you can take on. It's an iconic product that creates memories and connections between generations. And what makes it most memorable is the game pieces.
Due to the small size and often intricate designs of rooks, knights, bishops, etc., turning chess pieces may seem daunting. But even with a basic design, you can create something that people will hold dear for generations to come.
Salt and Pepper Shakers
Know anybody who collects salt and pepper shakers? Or maybe just need a new set for your kitchen? Why not go ahead and turn your own salt grinder and peppermill?
A wide range of design options are available. Several sites offer kits for the internal components. You just need to turn to shape from a blank and hollow out the core with a Forstner bit. In the end, you'll have a wonderful gift for family and friends or a useful tool for daily use in your kitchen.
Wood Trivet
If you're wondering what a wood trivet is, you aren't alone, but that doesn't make any less of a good project. A wood trivet is a hot plate for your countertop. Many designs are slatted and may not seem like a natural fit with woodturning.
But, using your wood lathe to turn a flat disc into a trivet can be a solid way to hone your turning skills. The ends of the disc stay flat to sit on the counter and provide a level surface for a hot dish. The edge, on the other hand, you can shape any way you like. It's a simple, elegant project that will get a lot of use on any kitchen counter.
Keepsake Box
A handsome wooden box on a display shelf or dresser is a nice accent in any home. Keepsake and jewelry boxes can be challenging projects. But they can also be a rewarding way to build your skills and make great conversation pieces.
The truth is, with a few fundamental wood lathe skills—focusing on hollowing out the interior and creating whatever decoration you want on the lid—you can turn out a stylish lidded box to hold all sorts of small items.
Egg Cup
An egg cup—a small piece to hold an individual soft- or hard-boiled egg—may be the least useful, most specialized item on our list. But it's no less memorable a project. The same skills and basic techniques can be used to create a larger chalice, so your practice here can pay dividends in other projects.
The key is to start with an appropriately small blank cut to size. You'll be using your woodturning skills to hollow out both the top and bottom of the cup, plus create whatever profile shape and special features you want.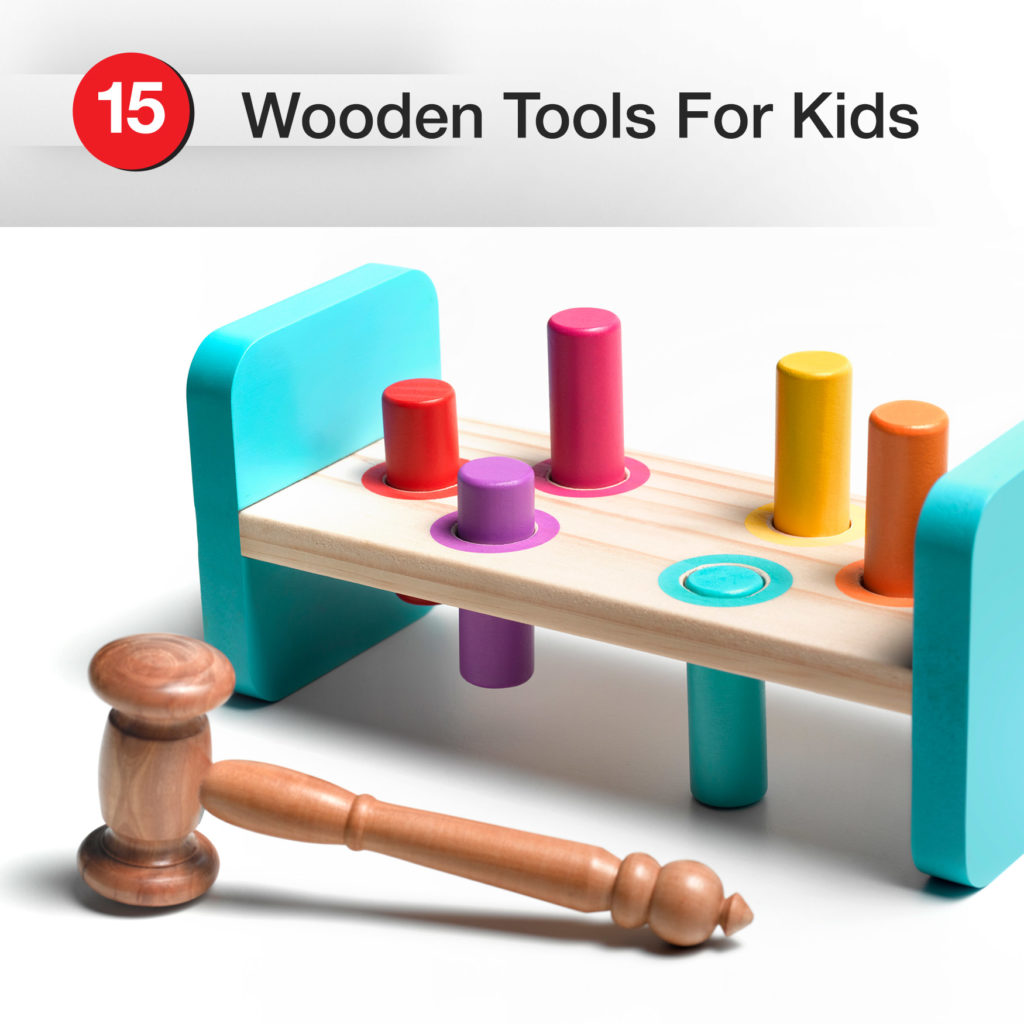 Wooden Tools For Kids
We saved the most sentimental project choice for last. You may not be an elf, but we bet you'll still find it rewarding to turn wooden toys with your wood lathe for the kids or grandkids in your life.
A top is a classic toy that's great to hold, admire and play with. And it's small enough that you can make one out of leftover wood from other projects. Keeping the point sharp for maximum spin while shaping the rest of the toy is no small challenge. But with a bit of patience and finesse, you'll make a plaything everyone will want to take for a spin!
Powering Up Your Wood Lathe for Turning
After reading this list, what types of wood lathe projects are you itching to try? You can get by with a small or mini lathe for the smaller pieces.
For some of these projects, a mini lathe, a cheap set of chisels, and some sandpaper will suffice, but some of these DIY projects will have more heavy-duty needs.
If you're looking to do table legs and other larger projects, you'll want a full-size woodturning lathe or CNC lathe. The horsepower required for these machines makes 3-phase (vs. single phase) power the smoother, more efficient, and more reliable choice.
In that case, you may need to convert your single-phase residential electric service to operate your lathe. That's when a rotary 3-phase converter comes in handy. For example, a properly sized American Rotary phase converter can power multiple 3-phase and single-phase machines in your woodshop at once.
Contact us for help with sizing or check out the different types of American Rotary phase converters for woodworking here.