Meet Ashley Yates of Yates Precision Manufacturing. Ashley has a Bachelor's Degree in Business Management with a concentration in Finance. Founded in June of 2017 and owned and operated by Ashley and her husband, Jake, Yates Precision began as a contract manufacturing shop, manufacturing safety razors for themselves, friends and family members. After their customer base began to grow, so did their business!

Ashley and Jake always had the end goal of being self employed and able to spend more time with family, all while doing what they loved. After being gifted a safety razor by Jake's father, he began wondering if he would be able to make one. This idea expanded after sharing a few of his early designs on social media. Jake soon began taking orders and found that with an increase in demand, came a need for production that would be able to keep up with the demand and Yates Precision has not looked back since. What started as a hobby after Jake began looking into something creative he could work on after his day job, manufacturing safety razors soon turned into his preferred craft. This hobby slowly shifted into a part time job. Now, Ashley and Jake are proud to say that they have now both been able to make Yates Precision Manufacturing their full time jobs.
Working in manufacturing, Ashley has also faced her fair share of challenges working in a male dominated industry. Although there have been times where she's been intimidated, seeing other women move up in their manufacturing roles and connecting with and creating friendships with these women prove to be a great motivator for continuing to succeed in this industry.

"I would say the biggest motivator for me, personally, is the fact that I know I have so much more to learn. I feel that Jake and I have learned a lot in these last 5 years of being business owners, how to manage our website, creating our products and distributing our products. We are still at the very beginning and I really think that we have much more potential. I'm really excited to see where we are in the next 5 years!" – Ashley Yates


The Importance of Three Phase Converters in Manufacturing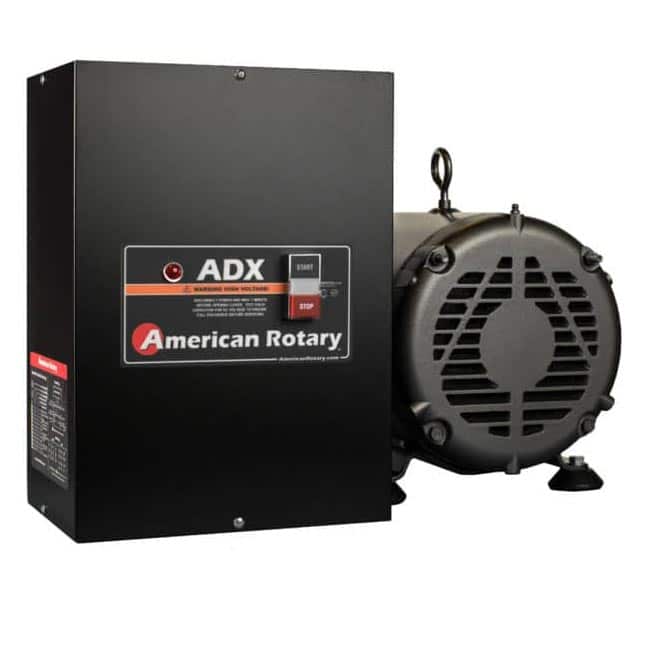 American Rotary phase converters produce a balanced three phase output to accommodate both very small, lightly loaded manufacturing machines and very large or heavily loaded machines, all with just one phase converter. Different types of equipment loads call for different kinds of converters. For example, the American Rotary ADX Extreme Duty Smart Series rotary phase converter is designed for high inertia/friction loads.
The ADX rotary phase converters have current control to provide consistent torque while starting high inertia, extremely hard starting loads, yet are precise enough for CNC applications. This makes it a great option for powering voltage sensitive equipment, while also ensuring harder materials can be used as well. A larger converter than needed can also be used to leave room for additional equipment, while still delivering the needed balanced power for your current applications. In any case, make sure the rotary phase converter you choose is rated for the specifications that your equipment requires. Our USA made phase converters produce balanced three phase to keep anything from one small machine, to your whole shop running with clean, precise three phase power.
Need Three-Phase Power for Machining and Metalworking Production?

Machining and metalworking is just one of thousands of industries American Rotary has been able to help with rotary phase converters.
To see how American Rotary can provide the perfect solution for your three-phase power needs, call 1-888-743-6832 to speak with a customer service representative.