Yates Precision Manufacturing is owned and operated by Jake and Ashley Yates in Southwestern Pennsylvania. Founded in June of 2017, Yates Precision began as a contract manufacturing shop and actually began making safety razors by accident! After receiving one as a gift from his dad, safety razors soon piqued Jake's interest and he began wondering if he would be able to make one. As this idea expanded after sharing a few of his early designs on social media, Jake soon found that with an increase in demand, came a need for production equipment that would be able to keep up with the demand.

After determining that CNC machinery would be the best solution to meet his production needs, Jake narrowed in on what equipment he needed. However, he found that most of the equipment required strictly three phase power, which they did not have at their shop. After some investigating, Jake discovered that with the shop located in rural Pennsylvania, not only was three phase not available at his location – it was extremely cost prohibitive to run all the way into their location. After doing some research, Jake learned that through the use of a phase converter, the available single phase power at their shop could be converted to three phase and used to power their needed CNC equipment!

Phase Converters Offered a Viable Solution

CNC machining is great for a lot of different applications, but a stable and consistent power supply is needed, or you risk damaging this valuable equipment. A rotary phase converter is a great option for powering CNC machines, however, stable and consistent power is needed to ensure the equipment operates properly. With a background in the Aerospace and medical industries, Jake was familiar with the requirements for this type of equipment. He called up the American Rotary engineering team and discussed the specifications on the CNC equipment that he needed to power. Together, they found that the ADX60 Digital Smart Series™ was the best fit for their needs. With the digital Micro Smart Controller, the ADX phase converter monitors voltage every 50 milliseconds, so Jake can be assured knowing the equipment is getting clean and precise power at all times.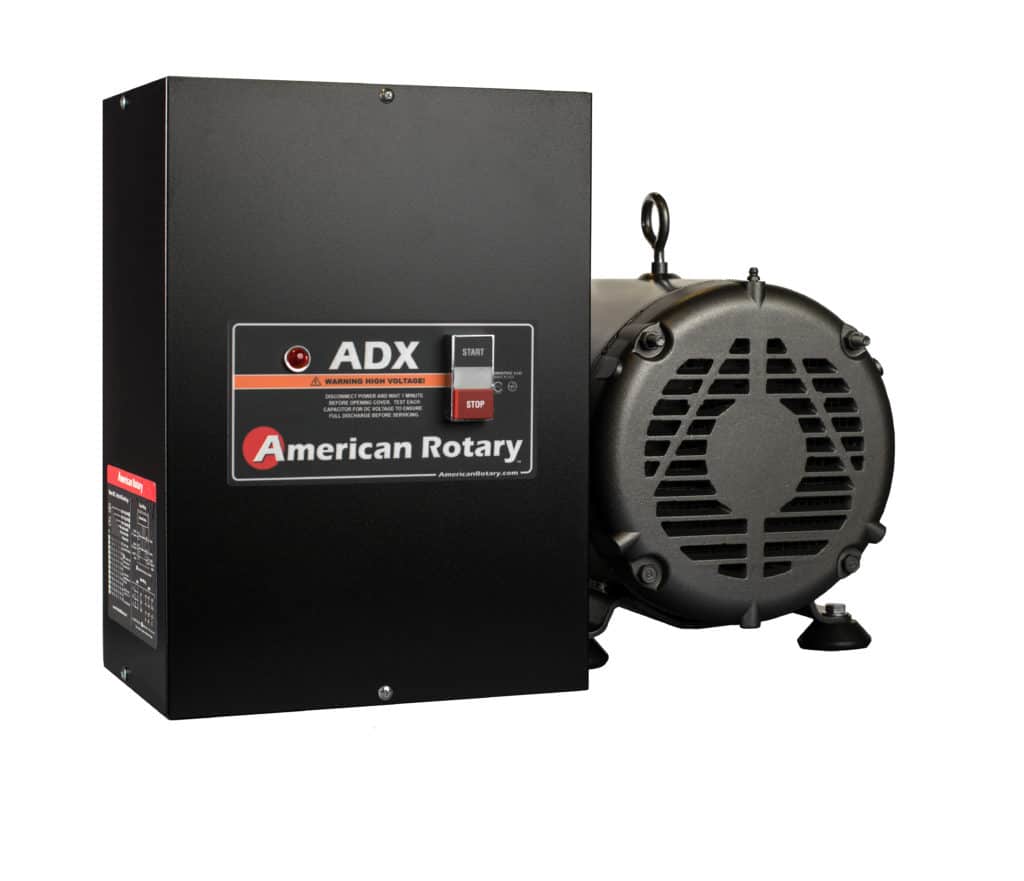 The ADX unit is also equipped with heavy duty, oil filled capacitors and CTR Current Control Technology that will provide extra torque that is required by harder starting or heavier loads. This way, vacuum tables and dust collectors can be added into Jake's shop and he can be rest assured knowing they will be able to operate without issue.

Since its opening in 2017, Yates Precision
has been manufacturing safety razors and
accessories in a number of different styles
and finishes. With the addition of the
ADX60 American Rotary Phase Converter,
Jake and Ashley have been successfully
powering all of their three phase equipment
and continues to grow and expand their
business.

"YPM currently has 4 CNC Machines: a Mori Seiki MV-40M 5-axis mill, a Mazak QT-10 2-axis lathe, a Haas VF-2SS 4-axis mill, and a Tsugami M08SY twin spindle y-axis lathe. We run all of our machines off of an American Rotary ADX60. With our shop being in a rural area, three-phase power isn't readily available. Without American Rotary and their fantastic phase converters, none of this would have been possible" – Jacob Yates

Need Three-Phase Power for CNC Machining?

Yates Precision Manufacturing is among one of the many companies that have found the power to make quality products with the help of rotary phase converters.

To see how American Rotary can provide the perfect solution for your three-phase power needs, call 1-888-743-6832 to speak with a customer service representative.