Precise. Powerful. Versatile. A CNC mill is one of the most exciting pieces of equipment you can work with.
Sure, it's not a cheap machine, and learning to use CNC (computer numerical control) takes time. But if you have access to a CNC mill and a willingness to fail forward, you can make lots of interesting parts and products—from shop tools to home decor to toys—as you advance your skills. That's what this list of 10 easy CNC milling projects for beginners is all about.
So let's get started!
Parallels
We'll begin with several simple, handy tools for your workshop.
Parallels are metal bars that are precision ground to be parallel to each other. Use them to support, raise, and level a workpiece to ensure accuracy during surface cuts, hole drilling, and other operations. You can also use parallel sets to check distances or surface flatness.
Creating parallels involves just a few precise cuts with no tricky angles. So it's a good place to start trying out your print and G-code (This is one of the easiest projects if you are learning CNC machining).
Micrometer Stand
A micrometer is an essential machining tool for measuring small dimensions to tight tolerances. Making a stand for it holds it in place to help you maximize the accuracy of those measurements.
As we pointed out in our machining tips for beginners article, accuracy is crucial to your success in all things machining.
This micrometer stand project is a good next step because it ups the complexity. Not only do you need to get the dimensions exact, but you also need to execute multiple operations in your CNC program.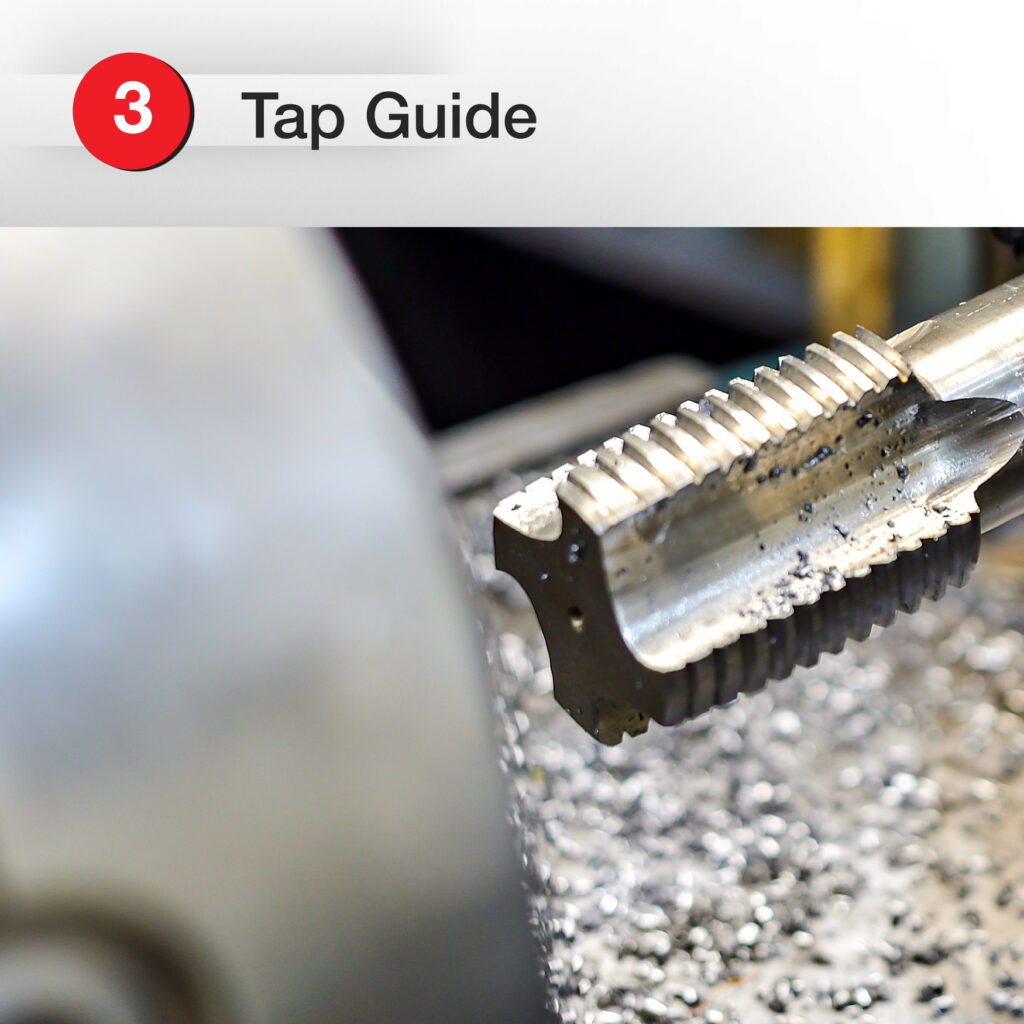 Tap Guide
Every shop needs a good tap guide on hand to properly align threads so that they're square with your workpieces. Plus, you need the CNC milling practice, so this is another logical project to take on.
And fortunately, there are ways to liven things up.
To add some challenge, incorporate engraving into the operations so that you have a tap guide that's clearly and accurately marked. This step makes for a much handier tool to have around.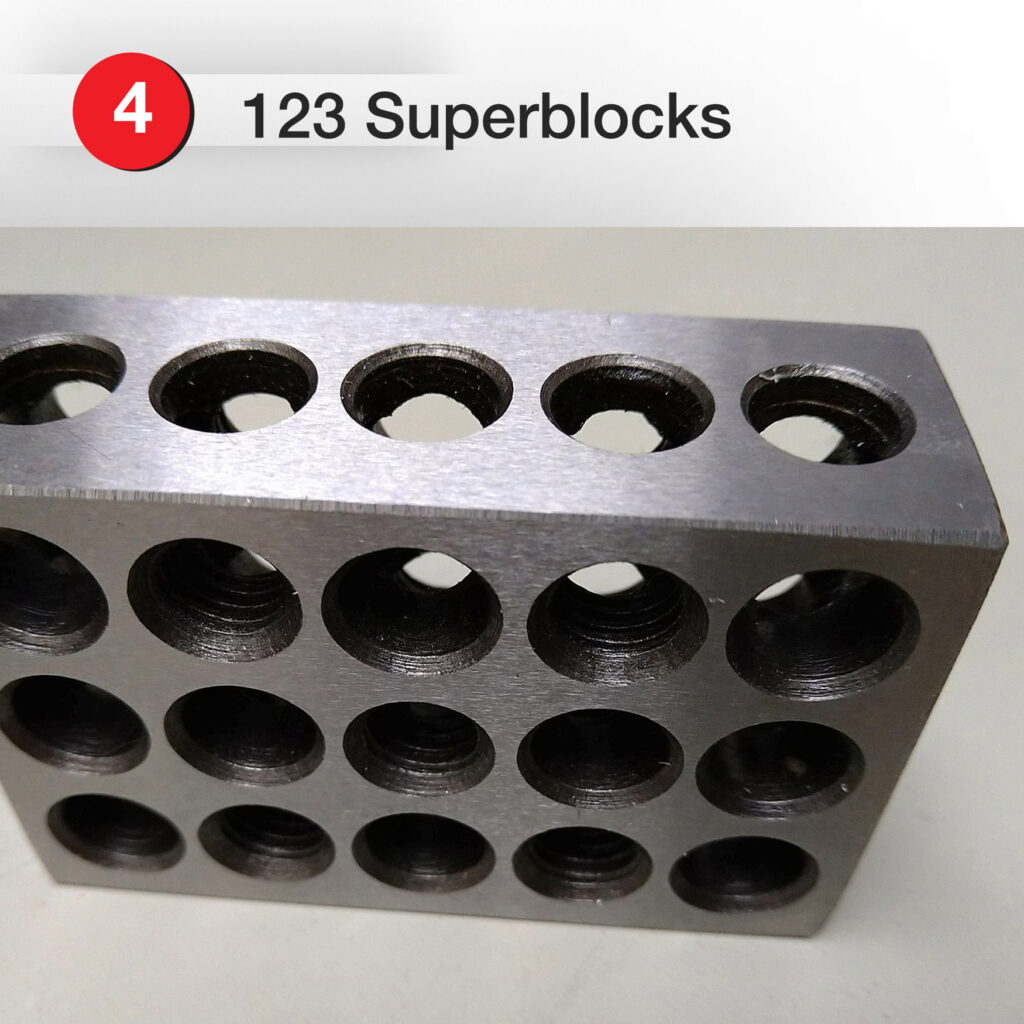 123 Superblocks
For the last of our straightforward, practical project recommendations, 1-2-3 superblocks are among the most versatile yet simple tools you can use in metalworking.
They come in sets of three with precise dimensions of—as you might have guessed—1-inch, 2-inch, and 3-inch widths. The flat, parallel surfaces and precise right angles are ideal for setting up and measuring workpieces, acting as references to check squareness, and lots more.
These also make a great manual milling machine project if you're interested in building up your skills in traditional machining.
Tramming Tool
A tramming tool is essential for milling machine alignment. It's a base that holds 2 dial indicators for checking alignment in multiple positions. Basically, you use it to ensure that your cutting tool is square with your worktable and vise or other holding fixture.
Since this tool is all about helping you achieve accurate and precise results, the key to the project is maximum precision. So while a tramming tool appears to be a pretty basic hunk of metal – and in some ways it is – you'll need to work to make sure it's exactly right.
Chess Set
If you also like to make things with wood, you might have read us recommending a chess set as an advanced woodworking project.
But you can make a righteous one out of metal with a CNC mill, too!
This fun yet challenging project involves setting up some tricky cuts, including circles. And making your pieces requires multiple different operations. So it's a great learning experience. And, of course, it makes an awesome gift.
Metal Dice
Here's another cool gift or a conversation piece for your display shelf.
You've got lots of choices for your design, including dimensions, number of sides, etc. Dice aren't overly complicated to make with a CNC mill. The challenge here is to get your dice as square and parallel as possible with your equipment.
Turner's Cube
The classic turner's cube—that mesmerizing set of nesting, bored-out blocks—is a project better suited to a lathe, and will likely make you understand the core differences between a mill and a lathe. But why not challenge yourself a bit more and make one with your CNC mill?
After all, as legend has it, the original reason for a turner's cube was to test the skills of an apprentice. To make the test even tougher, try doing it with one size of endmill through the whole process, experimenting with circle cuts along the way.
Laptop Stand
Your laptop probably has a sleek metal design. It deserves a sophisticated metal stand to match.
On top of aesthetics concerns, now we're introducing the complexity of multiple workpieces that must fit together. This will take some time to work through, so enjoy the learning process. In the end, you'll have something that's truly useful and cool.
Engraved Wooden Boxes
We've been focusing on metal for the other projects on our list because a CNC mill works well on metal. But a CNC mill can also be used on wood as well as other materials.
A CNC mill uses a rotating cutting tool that cuts with precision and power suitable for many different materials. Compare that to your typical CNC router, which uses a non-rotating cutting tool with less power and precision. It's typically limited to wood and composites.
So for this last project, let's take advantage of your CNC mill's greater versatility. To up the challenge, try for the most intricate artistic engravings you can come up with. With a little planning and patience, you're sure to complete a piece you can be proud of!
The Power Behind These Projects
As you prepare to stretch your CNC skills, here's a final consideration. The most robust CNC machines—mills, lathes, and others—run on 3-phase electricity. If you have the typical single-phase service in your shop, you're going to need a way to power your CNC equipment.
By converting your single-phase to 3-phase power, a rotary three-phase converter from American Rotary can provide reliable, efficient power for your 3-phase CNC equipment. Our units can be sized to power just about everything else in your shop, too.
Contact us today to discuss the power requirements for your shop. Then get practicing your skills. You'll CNC the difference in no time!